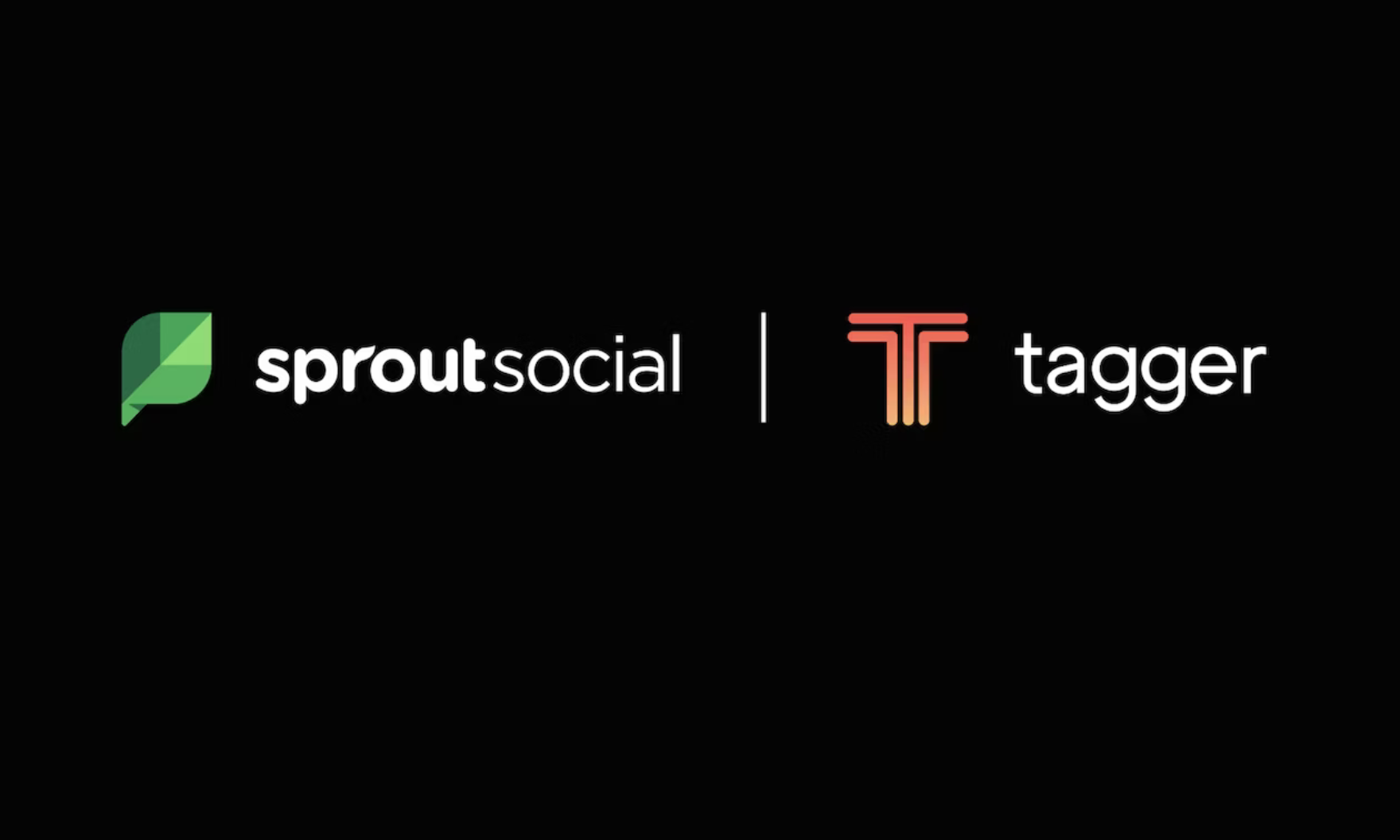 CHICAGO, August 3, 2023 – Sprout Social, Inc. ("Sprout Social", the "Company") (Nasdaq: SPT), an industry-leading provider of social media management software, today announced the acquisition of Tagger Media, Inc. ("Tagger") a leading influencer marketing and social intelligence platform. This acquisition will further establish Sprout as the leader in the social media software market with a comprehensive platform that empowers brands to execute a holistic social strategy at scale.
"As influencer marketing has changed the way brands build awareness and connection, our customers are increasingly demanding to break the workflow silos between core social media strategies," said Justyn Howard, Sprout Social's CEO and Co-Founder. "By bringing Tagger's influencer marketing software into Sprout's suite of solutions, we have the opportunity to deliver the next generation of social insights to our customers to fuel business strategy and measure the full ROI of holistic social investments. Tagger and Sprout have a shared mission for building powerful and intuitive software and we're excited to bring our industry-leading products and teams together."
Tagger Media was founded in 2015 to make influencer marketing more effective and accessible for all brands. Today, Tagger's unified SaaS solution enables the world's largest brands and agencies to discover influencers, plan and manage campaigns, analyze competitor strategies, report on trends and measure ROI—delivering tangible business impact. Tagger has twice been recognized as the Best Influencer Marketing Platform by the Global Influencer Marketing Awards and was recently recognized by G2 as the Summer 2023 Leader in Influencer Marketing, Summer 2023 Momentum Leader, and Summer 2023 High Performer in the Enterprise.
"We started Tagger because we saw extraordinary potential in the creator economy and knew there was an opportunity to build disruptive and innovative software for brands," said Pete Kennedy, Tagger's Founder and President. "We're delighted to execute together on a shared vision to define this rapidly emerging market."
"We believe Sprout's incredible brand recognition, well-refined go-to-market strategy and industry-leading software will enable us to further accelerate the opportunities for our employees and the value we deliver to our customers," said Dave Dickman, Tagger's CEO. "We're motivated to establish ourselves as the category winner in influencer marketing."
Learn more about how brands can align and unify their influencer marketing and social media management strategies with Sprout.
About Tagger Media
Tagger Media is a global leader in revolutionizing how top brands and agencies harness data and analytics to drive creator and influencer marketing strategies. Trusted by global enterprises, Tagger is a disruptive SaaS solution that offers unparalleled expertise. Leveraging API partnerships with major social channels, Tagger connects millions of brand and influencer profiles to billions of social data points, offering the industry's most robust social intelligence and actionable insights. Tagger's platform provides powerful analytics, all-in-one capabilities, and strategic integrations for efficient campaign workflows. To learn more, visit taggermedia.com.
About Sprout Social
Sprout Social is a global leader in social media management and analytics software. Sprout's intuitive platform puts powerful social data into the hands of more than 30,000 brands so they can deliver smarter, faster business impact. With a full suite of social media management solutions, Sprout offers comprehensive publishing and engagement functionality, customer care, advocacy, and AI-powered business intelligence. Sprout's award-winning software operates across all major social media networks and digital platforms. For more information about Sprout Social (NASDAQ: SPT), visit sproutsocial.com.
Advisors
Citi is the exclusive financial advisor to Sprout Social and Cooley LLP is acting as its legal counsel.
Forward-Looking Statements
This press release contains "forward-looking statements" within the meaning of Section 27A of the Securities Act of 1933, as amended, and Section 21E of the Securities Exchange Act of 1934, as amended. In some cases, you can identify forward-looking statements by terms such as "anticipate," "believe," "can," "continue," "could," "estimate," "expect," "explore," "intend," "long-term model," "may," "might" "outlook," "plan," "potential," "predict," "project," "should," "strategy," "target," "will," "would," or the negative of these terms, and similar expressions intended to identify forward-looking statements. However, not all forward-looking statements contain these identifying words. These statements may relate to our market size and growth strategy, our estimated and projected costs, margins, revenue, expenditures and customer and financial growth rates, the expected benefits of our acquisition of Tagger, including its contribution to our platform and our market leadership position, and its impact on our growth rates and financial performance, and our plans and objectives for future operations, growth, initiatives or strategies. By their nature, these statements are subject to numerous uncertainties and risks, including factors beyond our control, that could cause actual results, performance or achievement to differ materially and adversely from those anticipated or implied in the forward-looking statements. These assumptions, uncertainties and risks include that, among others: difficulty integrating Tagger or its technology into our business, any unknown potential contractual, intellectual property right or tax law violations by Tagger, our rapid growth and limited history with key features of our platform makes it difficult to evaluate our prospects and future operating results; we may not be able to sustain our revenue and customer growth rate in the future; our business would be harmed by any significant interruptions, delays or outages in services from our platform, our API providers, or certain social media platforms; if we are unable to attract potential customers through unpaid channels, convert this traffic to free trials or convert free trials to paid subscriptions, our business and results of operations may be adversely affected; unstable market and economic conditions, such as recession risks, effects of inflation, labor shortages, supply chain issues, higher interest rates, the impacts of current and potential future bank failures and geopolitical impacts of Russia's invasion of Ukraine, could adversely impact our business and that of our existing and prospective customers, which may result in reduced demand for our products; any cybersecurity-related attack, significant data breach or disruption of the information technology systems or networks on which we rely could negatively affect our business; and changing regulations relating to privacy, information security and data protection could increase our costs, affect or limit how we collect and use personal information and harm our brand. Additional risks and uncertainties that could cause actual outcomes and results to differ materially from those contemplated by the forward-looking statements are included under the caption "Risk Factors" and elsewhere in our filings with the Securities and Exchange Commission (the "SEC"), including our Annual Report on Form 10-K for the year ended December 31, 2022 filed with the SEC on February 22, 2023, as supplemented by our Quarterly Report on Form 10-Q for the quarter ended March 31, 2023 filed with the SEC on May 3, 2023 and our Quarterly Report on Form 10-Q for the quarter ended June 30, 2023 to be filed with the SEC as well as any future reports that we file with the SEC. Moreover, you should interpret many of the risks identified in those reports as being heightened as a result of the ongoing and numerous adverse impacts of current instability in market and economic conditions. Forward-looking statements speak only as of the date the statements are made and are based on information available to Sprout Social at the time those statements are made and/or management's good faith belief as of that time with respect to future events. Sprout Social assumes no obligation to update forward-looking statements to reflect events or circumstances after the date they were made, except as required by law.
Availability of Information on Sprout Social's Website and Social Media Profiles
Investors and others should note that Sprout Social routinely announces material information to investors and the marketplace using SEC filings, press releases, public conference calls, webcasts and the Sprout Social Investors website. We also intend to use the social media profiles listed below as a means of disclosing information about us to our customers, investors and the public. While not all of the information that the Company posts to the Sprout Social Investors website or to social media profiles is of a material nature, some information could be deemed to be material. Accordingly, the Company encourages investors, the media, and others interested in Sprout Social to review the information that it shares at the Investors link located at the bottom of the page on www.sproutsocial.com and to regularly follow our social media profiles. Users may automatically receive email alerts and other information about Sprout Social when enrolling an email address by visiting "Email Alerts" in the "Shareholder Services" section of Sprout Social's Investor website at https://investors.sproutsocial….